PEHP is replacing its claims payment and administration system to better serve you and our members. The transition to the new system will be done in phases by employer renewal dates.
Until the transition is complete, you may need to login to your existing and new provider account to verify member benefits eligibility, submit claims, see claim status, and access other provider online tools.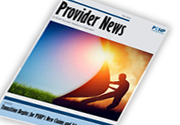 Members will receive a new PEHP ID Number as they transition to the new system. Please make sure to ask for the new ID number to update your records and avoid delays in processing submitted claims.
For a more detailed outline of the new changes please see our
Fall 2022 Newsletter.