Information about your new PEHP Account
PEHP is updating its main operating system and member online account to better serve you. We are excited about these changes that will help us improve your experience with PEHP.
The transition to the new system will be done in phases based on when your plan year renews.
Transition Timeline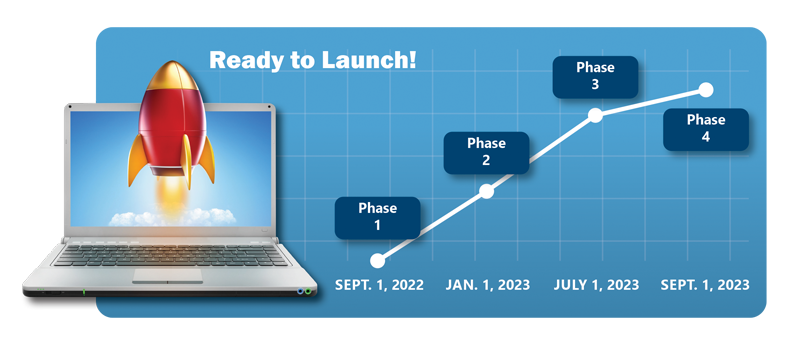 As part of the transition, you're getting a new ID card and number. Your new ID number begins with "M000."
Here's what you need to do:
Use your new ID NUMBER when you visit providers to ensure your claims are paid. Our new operating system will not recognize your old ID number.

You will receive a new member ID card in the mail before your new plan year begins - January, July, September, or October (check with your employer for your new plan date). Your new card will have a new member ID number and your plan benefits. Your new ID number begins with "M000." Please discard your old PEHP card and begin using the new card when you visit providers. If you use your old PEHP ID number beginning in "174100" after your new plan year begins, your claims will be denied. It's important that you give your doctor or pharmacist your new ID number to have your claim paid. Otherwise, you will have to work with the provider on resubmitting the claim under the correct number to get it paid. If you do not receive your new ID card in the mail before your new plan year begins, please contact us immediately (801-366-7555) so we can tell you your new ID number. You can also contact your HR department for your new ID number.

Create a new PEHP ONLINE ACCOUNT to see your benefit information

This is important to access your claims, find providers and costs, see your copays, deductible, out-of-pocket max, benefits summary/master policy, and much more. This is also where you will find the secure message center to ask us questions and send us personal documents. We encourage you to create a new PEHP account as soon as you receive your new ID card/number. Your old credentials will not work with the new system. To create an account, you must add the extension at the end of your ID number with the hyphen, as shown below:
M00000XXXXX-00 you (employee covered under PEHP plan)
M00000XXXXX-01 spouse
M00000XXXXX-02 adult dependent
M00000XXXXX-03 adult dependent
See Preview
If you need help creating a new PEHP account or have questions about this transition, please contact us at 801-366-7555.
---
Frequently Asked Questions